Thanks to Carmi Cimicata, I was invited to participate in The Newfangled Neo Chain Blog Hop. She sent me a bag of chain and findings goodies that included loads of purple, which is one of my favorite colors. Here are my first two jewelry sets that I came up with using the supplies she sent.
First, I went with a tried and true necklace design – the Y-Necklace. Chain is perfect for making these. I dug around and found adorable purple heart beads made by DD Hess, and you can see that I ended up with all different shades of purple with just a little dash of clear crystal beads on each side of the lampwork beads. I used some purple wire to attach the beads, and to attach the chain sections I used the jump rings included in the supplies sent to me. All purple – ear hooks, clasp, chain, jump rings!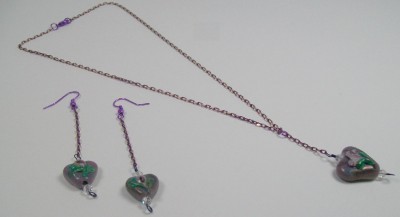 This chain is finer than the other chunkier chain she also included in the stash. I don't think my photos really show how the chain sparkles on its own. In fact, for the next set since the chain was thicker, I use a lot more chain and just a few extras. The necklace is a 40 inch piece of chain (so you can wear it extra long or double it) and I added a pendant my husband made for our book
The Complete Photo Guide to Jewelry Making: More than 700 Large Format Color Photos
.
Like the Y-Necklace, I finished both ends of chain with jump rings and a lobster claw clasp. The earrings are similar to the heart and chain earrings above, but I used the chunkier chain and square and round crystals on the end. Then, again, because the chain is just so neat all by itself, I cut a 21 inch piece of chain, added jump rings and a clasp, and now you can wear it wrapped around your wrist three times as a triple strand bracelet, or of course, you can wear it as a 21 inch necklace.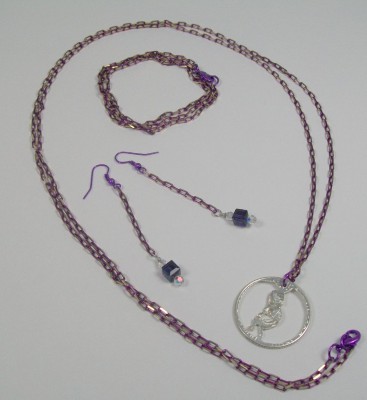 The Dazzle-It collection of products is available at the
Dazzle-It web site
, and the company also has a
blog
as well as
Facebook page
.