Squeee! Serious cuteness ahead……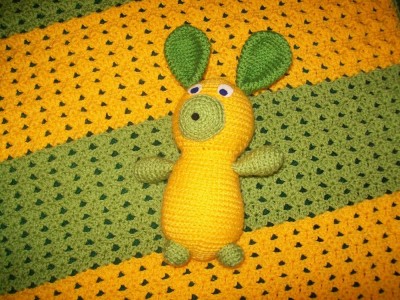 I will get a chance to briefly see my niece and her hubby soon and wanted to give at least the first installment of baby goodies to them, so I managed to crank out this baby afghan (started at the beginning of this month) and a matching bunny stuffie.
I used leftovers to make the bunny. This bunny is a favorite of mine, and I have probably made a half dozen of them already for charity. The pattern (Blair the Bunny) comes from Freshstitches.com. It's a paid for pattern and definitely worth $5. In fact, she has sales occasionally and I usually stock up on patterns from her her when she has them, so I probably paid less than $5 for this pattern.
The afghan is 32 x 36 inches, and I basically just used 2 different types of yarn and the fan stitch. I may take some time to write up the pattern for this because I really like how it turned out and could see making it again. The finished size is a good baby or even small lapghan size, and it works up very fast.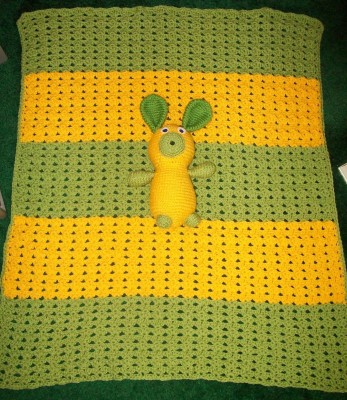 Here's the bunny and baby afghan together. Love!