Though I used the basket stitch for this scarf, I probably should call this the "basket case scarf" because I just about went crazy making it. First, I started it using a pattern from Knit Lab called the Seed Stitch Cambridge Scarf, which was working fine, but then I realized that the pattern just has you do a series of stitch patterns over and over and there is real no "ending" or "finish" to it. I just think a scarf, unless you are doing something asymmetrical, should be balanced so that the end and beginning match.
So frogged it!
Then I started it again and decided to go with parts of the pattern, so I did about 6 rows of seed stitch and opted to do the 4×4 basket stitch section over and over again until I got to almost the end. At the end, I would end with another 6 rows of seed stitch.
I'm thrilled to say it worked, and I finished it, but boy! That ball of yarn never seemed to get any smaller, no matter how much I worked on this project. Then whoopsie, I almost hosed up the cast off. And, stupid me cut the yarn before I realized I may have goofed up the very last stitch on this thing. I still have to really be careful about pulling the end of the yarn through that last loop and get it tight enough. Eeekkkk!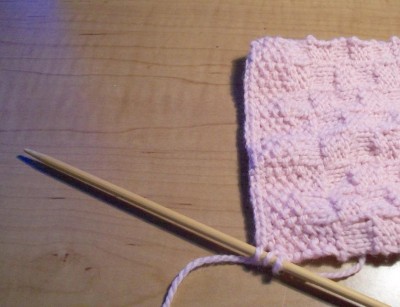 I'm still not great at fixing my mistakes, but I sucked it up and frogged about half a dozen stitches, and put my needles back in. Then I rewatched some knitting videos to refresh my memory about how to pull that end piece correctly, and relief! I fixed it, weee!
I was hoping to use all of the yarn, but I was concerned that I would not have enough to cast off if I wasn't careful, so I have a tiny ball left. But the final size works, 5 inches wide by 45 inches long. And it is soft and will be a nice, light scarf to wear when we finally get some cold weather (months from now).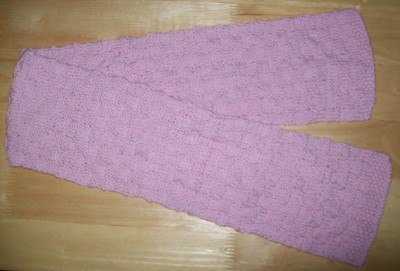 I used almost size 6 needles and almost a full skein of 2-ply soft pink merino yarn from
Morehouse Farm
. The yarn was a tad splity, but of course, much frogging was done so I'm sure that didn't help.
My next knitting adventure will be the Circular Knit Lab and hats.