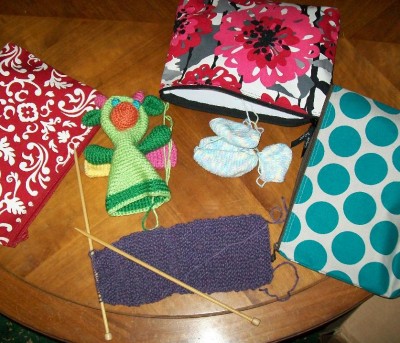 I have a number of yarn projects going on, and each is in various stages. The dragon is "this close" to being finished. Fingers crossed, I finish him up this weekend. As you can see, unlike the
previous dragon I made
, this guy is made with all kinds of yarn leftovers.
In the center is another Blair the Bunny. This one is going to be on the smaller side than many of the previous bunnies I've made because I'm using sport-weight yarn and a G hook.
Finally, as I mentioned in episode 6 of the bi-weekly podcast, I started up another knitted scarf. I am using some yummy super soft baby alpaca yarn in a light purple colorway. I'm kind of just winging it, doing mostly knit stitch with the occasional purl thrown in here and there. Of course, I dropped a stitch a few rows back, so now I need to figure out if I'm going to press on or attempt to fix it. I'm leaning towards fixing it because this scarf will probably be a holiday gift for someone.
Three projects is a good number for me. I know it may seem to a non-crafter that I may not be focused, but each project has its purpose as far as when it is a good time to work on it or when it is travel-sized or not. For seasoned crafters, three projects is really a small number of WIPs!