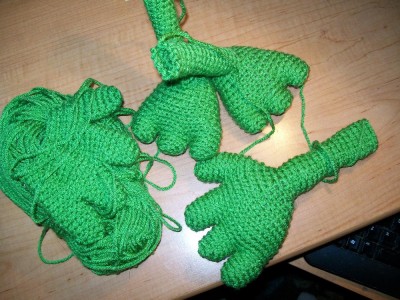 Finally, the school semester is just about wrapped up. I have been cranking on grading all week. lots and lots and lots of grading! But, I uploaded all the grades last night, and now I can take a little break over the weekend and work on holiday gifts and other related tasks…like getting my Christmas cards mailed…something that I often wait too long to do.
Pictured are the parts and pieces so far of Mike the Monster, a free pattern from Freshstitches.com, and he is turning out soooo cute! If you have watched any recent episodes of my Crafty Princess Diaries Podcasts , then you know that I have been slowly working on him to give as a gift to one of my  young nephews. I just have one more "hand" to finish, make the body and horns, and then stitch him all together.
One of my weekend goals is to finish this guy, and then I have another week of school stuff. There are no classes at this point, but I have meetings to go to, commencement to attend, and oh, right, I have to get everything set up for next semester. I like to get all my syllabi and class web sites set up before I check out officially for the holiday break. Otherwise, it continues to hang over me when I'm trying to relax, and by relax, you know me! That means lots of crafting!