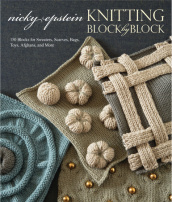 Nicky Epstein Knitting Block by Block
came out in 2010 and is published by Potter Craft. It is a chunky hardback book of 240 pages and retails for $29.99 in the US and $34.00 in Canada. The concept of the book is that you can design and create various types of finished knits by simply arranging and stitching knitted blocks.
The book includes 150 block patterns, so there is a lot of technique-type information provided, including graphs and step by step instructions for each block pattern. In the back, there is also a visual glossary of all the blocks with the idea that you could copy the page, cut out the block photos, and arrange them to help you create your own designs. At the very least, you could obviously use the blocks to create a wide assortment of afghan patterns. However, there are projects as well for those who may not be ready to design.
The first few pages of the book include a photo gallery of projects, and then the instructions for thirteen projects are in the last portion of the book. While there are some projects for blankets, the projects also include scarves, sweaters, a tote, and even a few cute toys. Most of the projects are a little on the bulky side, perfect for very cold weather, but I have to admit I was disappointed to see one project, Winter Solstice Hooded Scarf, use yarn fur, real fur, not faux. As I am anti-fur, this bothered me.
Experienced knitters and those who either design already or are thinking of trying to design will find the technical section, which makes up  the majority of the text, interesting and helpful.
I received this book from Blogging for Books for this review.