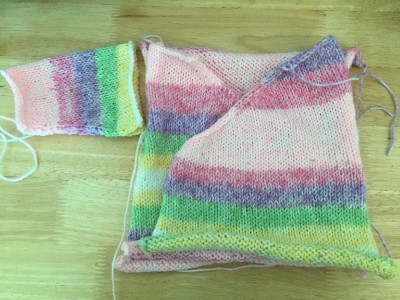 If you have watched any of
my video podcasts
, then you know what I'm working on, and you probably have seen bits and pieces of this little knitted baby kimono I'm making for my grandniece, Crystal Jewel. It is a free Lion Brand pattern called "Comfy Kimono," and I am using Lion Brand's Baby Soft yarn in the Circus Print colorway. I have one more sleeve to knit, and then it will be time to stitch it all together. I'm so happy with how it's turning out!
Making this project has been a learning experience for sure! My latest lesson was on the knitting term "work even." Yup. I was zipping along fairly well with the back and front pieces. Then when I was about half way through the sleeve, the instructions said "work 3 rows even." Er, what? Was I working uneven before?
According to the Lion Brand web site, "work even" means to "continue in the established pattern without increasing or decreasing," which in this particular case meant to keep doing stockinette. Why not just say that? Good question, but hey, it is one of the many little lessons I learn as I continue to learn to knit.