I recently mentioned the Dazzle-It Rings Blog Hop and showed off some super pretty seed beads I received from John Bead Corp. in a recent podcast episode. Now I get to share the process as well as the finished product. It started, of course, with some yummy beads and also a new booklet, Rings by Giovanna. The book has wonderful full-color up-close photos of how to use seed beads to weave various types of ring designs.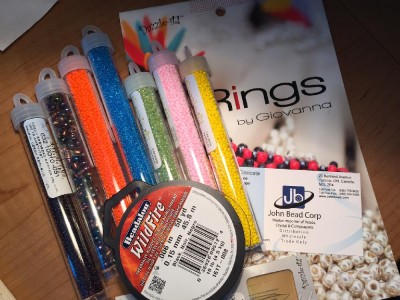 First, I had to pick out the beads, and I tend to be all about green and purple lately, so I selected those to get started.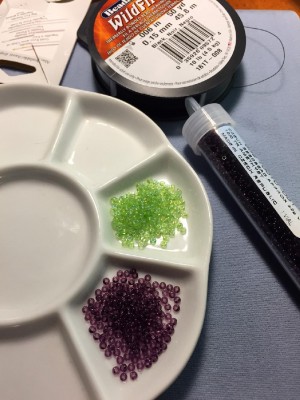 Next, I had to decide on the stitch and the project. I decided to go with peyote and create an adaptation of the "Sinuous Ring" design from the book.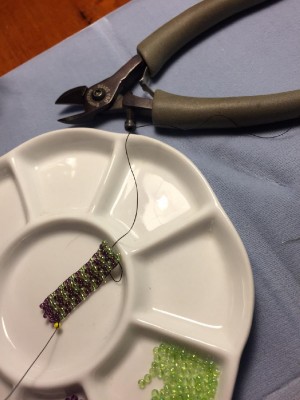 I used a size 12 needle, and the beads are size 10 seed beads. The supplies included black .15mm Wildfire by Beadalon. One tip for getting the beading wire through the needle is to use wire cutters to cut the beading wire. You need a very good cut on the end, or you will have a heck of a time getting that through the eye of the needle.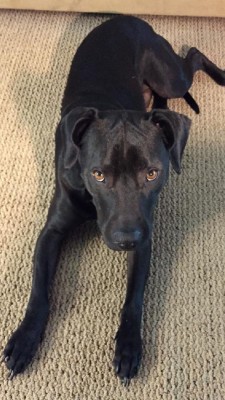 This project, which included a few stops and starts, ended up taking me about an hour to do. Little Dude was not happy that I was sitting at a table beading and not snuggling him on the couch. He tried a few times to even climb on top of the table! He is schedule for a bath today, which will include a mani and a pedi, so that will calm him down later, LOL!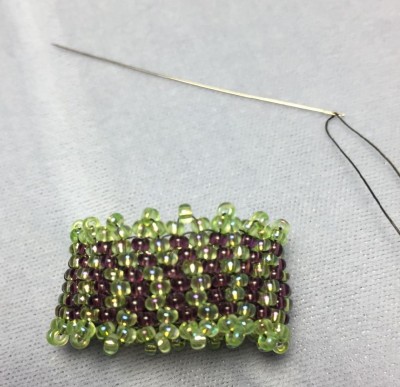 Here is the finished ring flattened on my work area. I alternated 2 rows of green beads and 2 rows of purple beads. Then I stitched a picot with green beads around the edges.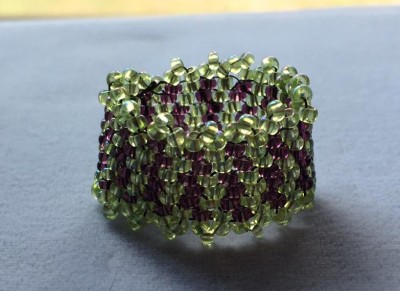 I love how it turned out! I have some ideas for other ring-related bead designs. Hopefully, Little Dude will not get too upset that I'm planning more seed bead jewelry projects!
Come back soon for a link that will show off all the rings created by participants of the blog hop!