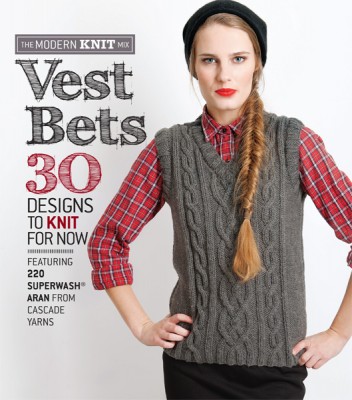 During a recent video podcast, I mentioned that I had a number of book reviews coming up, and well. here you go! Vest Bets: 30 Designs to Knit for Now Featuring 220 Superwash® Aran from Cascade Yarns (The Modern Knit Mix)
is published by Sixth and Spring books and retails for $17.95 in the US and $19.95 in Canada. As the title explains, it include 30 knitted vest designs all using 220 Superwach Cascade yarn in an aran weight, so these are generally on the chunky side.
I particularly like the look of the vest selected for the cover. It has wonderfully defined cables and represents a classic style of vest that would get a lot of wear. The use of the thicker yarn combined with making vests (versus full sweaters) means you get the look of a sweater (just layer) without the time needed to make one. There are other classic styles throughout (like the "Miss Woodford," a houndstooth-check pattern), but then there are also some more contemporary (such as "Dahlia," which has a leaf section that extends past the bottom). In other words, the 30 patterns vary from classics to contemporary, so there's a little something for everyone.
Other pluses of this book is the fact that most patterns have a good variety of size ranges from extra small up to large, and some even have extra large sizes. All patterns include full color photos of the finished items plus close up details photos, and some include diagrams for helping to piece areas that must be stitched together.
I did not see any patterns that seemed to be fit for a very new knitter, but experienced and intermediate level knitters will find some alternatives to knitting big hunking sweater here.