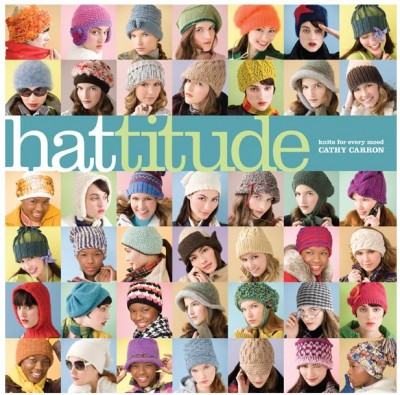 Hattitude: Knits for Every Mood (Cathy Carron Collection)
is published by Sixth and Spring Books and retails for $19.95 US and $25.95 CAN. It includes 40 knitted hat patterns. Each project includes at least one page of instructions, and then two color photos, one full-page and another smaller image, but the two photos help give you an idea of the various elements of each hat.
The designs are definitely feminine in style, so do not expect of find many that could be considered gender neutral. A few designs that I especially liked include the first project in the book called "Theatrical." It sort of has a beret affect going on with it and interesting seaming at the top. "Vivacious" is another standout design. It has a woven pattern around it with a trim at the top. With 40 designs, I think it would be hard not to find at least a few that you may want to try making. I also like the fact that an assortment of yarns are used from various companies.
For anyone who wants to move beyond the basic beanie style hat, this has a lot to offer. There are very little basic-type instructions as far as how to do the stitches, so you will either need some experience or will want to supplement with a stitch dictionary if you are not already an experienced knitter.