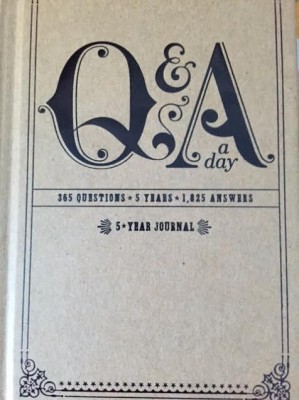 Q&A a Day: 5-Year Journal
is a five year journal published by Potter Style, retailing for $16.99 in the US and $18.99 in Canada. If you have ever attempted and failed at keeping a daily journal, this is a great solution because it requires very little writing and offers daily prompts in the form of fill in the blanks, questions, or commands. Here are a few examples:


"Today you've got too much _________________.

What do you want to remember about today?

Pick a color for today."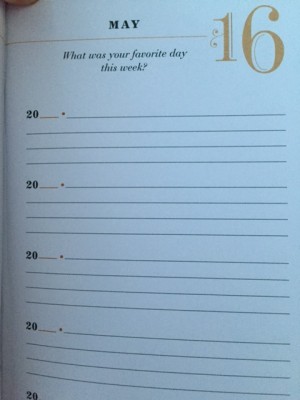 These are placed at the top of the page, and then there are 5 sections below it to write in, one section for each year. This mean after you have completed the first year, you will be answering the same questions the next year and also able to see what you wrote in previously.
Each section is just four lines long, so if you want to write a lot, there is not enough room for that. However, that is kind of the point I think of how this diary is formatted. Who doesn't have time to write four lines a day? Plus, even if you miss a day (I have forgotten a few times), you can catch up very easily since it doesn't take a lot of effort.
Even though this is a quick way to keep a personal journal, I have to admit that the prompts have made me stop and think over my day a few times. It has made me slow down and sort of be in the moment, so I have really enjoy it.
I received this book from Blogging for Books for this review.