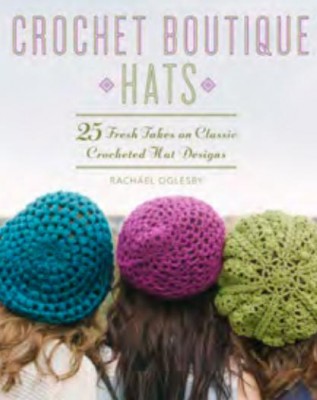 Crochet Boutique: Hats: 25 Fresh Takes on Classic Crocheted Hat Designs
is published by Lark and written by Rachael Oglesby. It retails in the US for $17.95 and in Canada for $19.95.
The 25 projects in this book included three different skill levels: beginner, easy, and intermediate. Most of the patterns are beginner and easy; I counted 5 that are designated as intermediate level. This one aspect of the book that I really like because hats should be fun to make for anyone at any skill level, but they tend to be especially good projects for beginning crocheters.
Many of the beginning level projects also use thick yarn and large hooks, so again, it is very beginner friendly, or for those who just want immediate gratification, there are plenty of patterns that will fit into that category too. The author was also careful to use easy to find yarns such as Lion Brand Wool-Ease Thick and Quick (for the Bulky Shells Beret); Patons Kroy Socks (used in the Wide Ribbed Beanie pattern, which is a great unisexl hat); Bernat Cotton-ish (for the Daisy Beret, a very cute beginning level hat); and even Lily Sugar n' Cream (for a cute Bucket Hat). Color photos are abundant and provide multiple views of each hat, both on a model as well as laying flat.
I will say, that there are a few hat designs that do not personally appeal to me, but really, just a small number. Most look like something I would enjoy making and wearing. This would be a good "go to" book for someone who has mastered basic stitches like slip stitch, single crochet, and double crochet and wants to start making finished accessories.
(A review copy was sent to me from the publisher.)