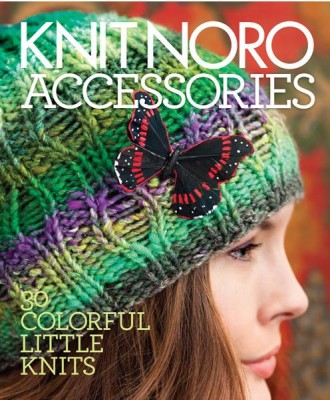 Knit Noro: Accessories: 30 Colorful Little Knits (Knit Noro Collection)
is published by Sixth and Spring Books and retails for $24.95 in the US and $29.95 in Canada. There is no specific author or editor for this book. Obviously, it was put together by the Noro company to showcase its yarns. However, there are a number of designers' work included in the book such as Debbie O'Neill, Karen Baumer, and Erica Schlueter. I would have liked a quick reference list included in the back of the book since sometimes the designers can make me decide whether or not I want to purchase a book. I asked to review this particular Noro book, out of the number that they have published, because I prefer to make accessories versus sweater and similar garments.
As with all the Noro books, I was not disappointed with the wonderful yarn colors and general "eye candy" included. The photographs are always well-done, and this book is no exception. You are able to get a good idea of what the finished product will be since there are close up as well as full views of each o the 30 projects. Some of my favorite projects are the Random Cable Mitts (long fingerless gloves that reach up well past the wrists and are full of beautiful cable-work); the Modular Neck Wrap (a loose fitting type of cowl with pretty button accents); and Cloche Hat (gathered at the to with a wide band in the center).
Beginners should expect to need additional assistance with the projects, as there is very little supplementary instructions as far as knitting basics. There are charts in the back and very brief illustrations of some stitches, but I don't think there is enough here for anyone who is not already able to knit.
One drawback I have found with this book, and with many these days, is the tiny print and light text. Granted, my eyesight is pretty bad, but I think a book that you are going to use to craft an object should be very readable for everyone, not just 20 year-olds who good vision.
Otherwise, I love flipping through the pages of this beautiful book. There is just an overall feeling of luxury and richness that spills from the pages.
(The publisher provided me with a review copy of this book.)