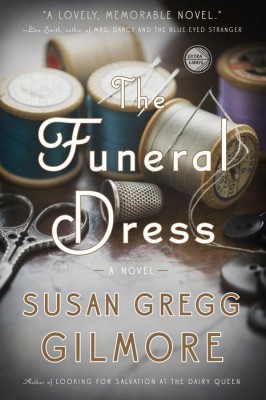 The Funeral Dress: A Novel
is written by Susan Gregg Gilmore and published by Random House. (You can read an excerpt of it on the publisher's site here.) It is about 350 or so pages and runs $16.00 in the US and $18.00 in Canada for the paperback version.
This book somehow became my summer 2015 "read," and I'm not exactly sure how that happened. I think I started reading it even last summer, and since then, it has been one of those books that I pick up and put down. I get hooked for a little while but not enough for me to just finish it already. It has been hard to determine why this is the case because the story is actually pretty good, and the historical connection to a clothing factory in 1970 Tennessee is a solid and interesting setting.
So why did it take me so long to finish this book? I have been wondering about this, and other than the fact that I am a very slow reader and really struggle with just reading for pleasure (probably due to so many years having to read and synthesis what I've read for a grade and/or for a research paper), the biggest hurdle for me on this book was the switching of point of view. This is a trend I've seen gain popularity over the years, and sometimes it works, but sometimes it doesn't, at least for me. I want the story to move forward, and when I'm forced to move back and forth and hop from one character's mind to another's, I get impatient after awhile.
I found that once I sat down and relaxed into the joy of just reading for no other purpose than falling into another world for a few hours, I finally got through the book and enjoyed it. However, I can't help wonder if we were in just one person's head (for example, Emmalee's who I think is the protagonist) would I have finished this much sooner. It is a good story. I just felt like it moved slower than necessary.
(A review copy was provided by the publisher.)