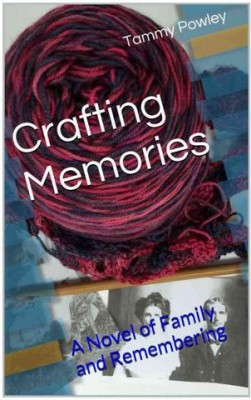 Woot! I have been mentioning this through all my social media outlets and through my video podcast, but just in case you missed it, my new novel is out and available through Kindle download on Amazon. It is called Crafting Memories, and below is a brief description:
Tess Dudley Forrester finds herself forty, unemployed, and wondering: Had it been a mistake for her to leave her secure job as a craft book editor so many years ago to pursue a career as a teacher? How long will her husband's good nature last as she navigates depression and tries to reconfigure her career goals? While Tess tries to understand the fickle nature of fate, along the way she discovers a distant family relative's journal and letters that open up a tragic chapter from her ancestors' lives, a mother/daughter suicide. At first, this discovery is just a distraction from her own troubles, but eventually, as she digs into her family's past, she also takes a journey of self-discovery. Along the way, she reconnects with her knitting and crochet friends, is tempted by a man who may be the answer to her future in more ways than one, and remembers how much she enjoys the art of crafting, both with her hands and her words.
You can read the preface and first chapter for free if you go over to the listing (here) on Amazon and click on the "Look Inside" option.