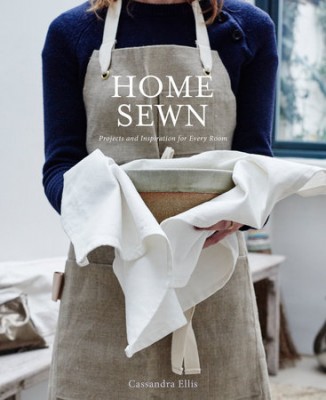 Home Sewn: Projects and Inspiration for Every Room
by Cassandra Ellis is published by Potter and retails for $24.99 US and $32.99 Canadian. Surprisingly, it is a hard cover book. The 159 page book is full of beautiful color photographs, most showing the finished pieces in a "staged" situation and a few showing some "how-to" elements.
As with many books I review, some of the print is too light for my poor old eyes, but oddly enough, some of the print in this book is dark and some light. For example, the Cotton Block-Print Pillowcases project has dark (I say dark but I mean more normal colored) text for the introduction. Then the print lightens up for the list of materials.Then it gets dark again for the step-by-step information. It seem like a small item to think about, but if you really want to read and use a book, this print design of the book I find to be irritating.
Most of the projects look simply enough as far as sewing skills. There are a variety of projects that require basically sewing a straight line, so that is nice to see. That said, I would still warn totally new sewers to be prepared to be challenged somewhat because the instructions are not as broken down as they could be. For experienced sewers, that should not be a problem though. Plus, there are some projects that require very little sewing. The Linen Bulletin Board, for example, only requires you to cut, staple, and glue fabric to a board.
If you have a small amount of sewing experience and enjoy the shabby – chic look, then you will find some very simple, fun, and useful items to make for your home in this book. There is a lot of use of cotton, linen, and canvas fabrics. If you want to work with fabric and try some projects like the bulletin board I mentioned and a few others that don't really require stitching or require just hemming around the ends of something  (a lamp shade and canvas table cloth), then you will find these here too. I could also see some nice gift ideas to consider making such as tea towels and storage containers.
It is a very pretty book, too, one that I could see me sitting down and just enjoy flipping through the pages now and then while I sip some tea.
I received this book from Blogging for Books for this review.