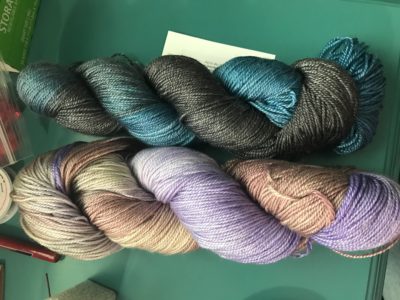 I have purchased the
Hotel of Bees Shawl pattern by Christina Hadderingh
, and of course, I would like to be able to use some yarn from my stash for this project. I have these two lovely sport-weight skeins from
Expression Fiber Arts
. Whichever skein I select from these two will still require that I supplement because shawl is fairly large.
I'm leaning right now towards the Silver Moon colorway (purple skein above), and then getting some light gray and maybe off white. I will need at least 800 yards, and many crocheters who are participating in the Cherry Heart crochet-along are selecting three different colors. While I love the look of this shawl, I have to admit that yellows are not my jam and don't really look good on me.
Of course, another option is to buy yarn just for this project, but I'm not sure if I'm ready to justify that yet. I'd love to use some of my beautiful hand-dyed yarn from my stash.