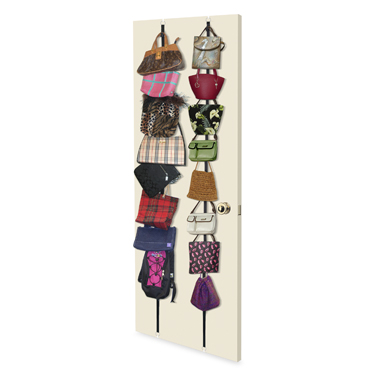 Along with my passion for jewelry, I have to say that accessories in general tend to attract me. Purses, for example, or handbags as they are called these days are a real addiction of mine. One of the best gifts I ever got was this Bed, Bath, and Beyond purse rack, and I filled that puppy up in about two seconds and there are actually multiple purses hanging from each hook. And, those are just my "fun" purses, like the really cool ones my mom brings me back from her cruise trips. I'll have to take some pictures of those to show you because I always get compliments when I have one and they cost her about $5.
On the list of crafts to create before I pass on to the big craft store in the sky are a line of purses. I've even gone so far as to do some sketches, and though my sewing skills are no doubt rusty, I think I really could do this some day, perhaps my own line of Crafty Princess Purses?
If you've also thought of stitching a sack (or sak), then you will probably want to bookmark a blog post I just spotted over at CraftStylish, Online Sources for Hard-to-Find Handbag Hardware. Ann Steeves has a list of five sources she seems very familiar with from her own days as a handbag designer.
Am I the only craft-junkie who has this purse thing going on in her mind? Am I showing how old I am because I keep typing purse instead of handbag?