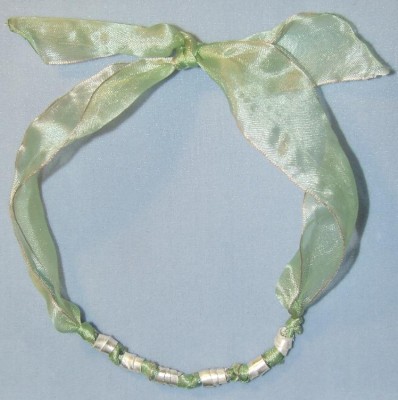 A BIG thank you to blogger/editor/crafter Cathy Jakicic for posting one of the metal clay projects from my book, Picture Yourself Creating Metal Clay Jewelry (Picture Yourself)
over at the BeadStyle blog! Make sure you get over there and download this free pdf ASAP!
This is a super easy project where you can actually make your own beads from low-fire metal clay. One of the things I know many jewelry crafters want to do when working with metal clay is to make their own beads. However, this can be an issue with the low-fire variety of clay because it doesn't allow you to make overly large items or dense items if you plan to fire the clay with a torch or hot pot. So, I put my jewelry designer thinking cap on and came up with these ribbon beads, and then of course, I decided to also string them up on some beautiful ribbon. But, you could use these beads in all kinds of beaded jewelry designs, not only with ribbon. I'd love to hear from anyone who attempts this project and see your finished results!