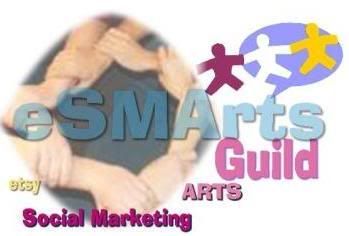 I really had no master plan about this, but some how I found myself joining an Etsy team. These are groups of people who are all members of Etsy.com and for various reasons "team up" with each other for a common cause, normally to help promote each other. There are tons and tons of teams on Etsy, and though I did at one point look at the lists and think about it, I held off for awhile because I was pretty much overwhelmed by the number of teams that exist and also wasn't sure how much time I'd have to devote to one, and of course, time I never have a whole lot of!
Then one day I was hanging out at the Etys forums, something I'm doing way too much of lately, and I saw a post where someone mentioned the eSmart Team, a team devoted to exploring social networking as a way to help promote themselves. A little bell went off for me, and minutes later I was a member. I'm not sure how active I will be, but I've already got some blog posts set to publish near the end of this month on the group's weblog, eSmart Team Blog.
Hopefully, I will be able to give as much as I get from this group when it comes to learning more about social networking. If nothing else, it will expand my Etsy experience, and hey I may get a few more fine silver star charms sold!