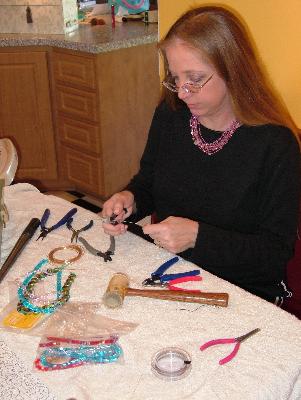 You've probably hear the phrase "it isn't brain surgery" whenever you talk about something that is not all that difficult to do. This came to mind when Sharon from "A Little Something" commented on my About.com Jewelry Making Forum about how intense her friends looked at her home while working on jewelry and related tasks.
They had gathered to help her out since making jewelry is just part of the whole jewelry job, and after viewing the pictures taken that day, she noticed how everyone – no matter who they are or what they are doing – look so serious and emersed in whatever they are doing. Do we all look like this when crafting?
I pulled out a picture my sister took of me making jewelry. Now, this shot was take on purpose to use as a promotional image, but still, I look like I'm about ready to put on the rubber gloves and pick up a scalpel.
Do you have a picture of yourself in the "creative zone"? I'd love to see other craft bloggers post them on their blogs. If you do, leave the link in the comments section so we can all gaze at your furrowed brow!