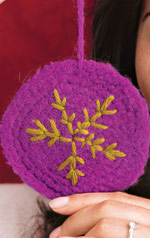 Most crafters are notorious for having a zillion craft projects going on and possibly not finishing them all. I have to admit that I too often have a number of them going on in various types of media as well, ranging from fiber to beads to paper generally. However, I really hate not finishing a project, so I do keep my multi-tasking down to a minimum when it comes to multiple projects.
On the crochet front, I've already written about the never ending afghan, which I am confident I'll finish some day, but I've been itching to make something else. Then I saw this ornament in the Nov/Dec 08 issue of Crochet Today. You use wool yarn (something I rarely use since I'm a Floridian), crochet a circle, and wash it in order to turn it into felt. Then you embroider a design on the front and add a piece of yarn to hang it with. Between the fact that I've never tried this method of felting before, or really any method for making felt, and the additional benefit that this is a super small project and the holidays are just about here, I couldn't resist.
I'll let you know how it turns out. I've just started it, and in between 5 jillion papers I need to grade this weekend, I hope to finish up to at least the felting part.