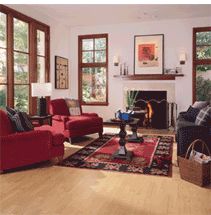 DH and I did some research today concerning our home improvement project. The plan was to check out the flooring company and then onto look at TVs. There is only one dealer withing a billion mile radius of our home that is a marmoleum distributor. I had called the place a few times asking questions, directions to the store, and hours of operation. However, when we showed up today, it was closed even though they were supposed to be open on Saturdays. As we sat there in the parking lot, we noticed the place looks like it originally took up a good chunk of the shopping plaza only it now is housed in one small unit. This gave us an uneasy feeling, and so that along with the fact that this flooring isn't cheap (around 4 to 8 dollars a square foot) and isn't exactly easy to purchase made us turn to plan B. What is plan B? Good question!
Whatever our flooring decision is going to be, however, we plan to purchase from a company that we know will be around for awhile and that offers standard materials so we know we can go buy it whenever we are ready to install. Right now, we are considering either Pergo or some kind of tile-type vinyl, and more than likely, we'll get it from the Home Depot down the road. I know a number of folks who have Pergo and have been very happy with it, and that's sort of where I'm leaning at this point.
TV shopping was more productive. We stopped by Sam's and Best Buys. I thought Sam's would be considerably cheaper, but I was wrong. Some prices were the same, and some were actually a little cheaper at Best Buys. Of course, with Sam's we could actually pick the TV and bring it home on the same day. Best Buys was out of a lot of merchandise, and we were told they'd have to order the model we were interested in, a 52 inch Samsung LCD.
We collected a lot of good data today, and I wouldn't be surprised to see that TV in the room way before we even figure out what to do about the floor. It sure was a nice one!
One other issue we discovered today was the alarming number of businesses that seem to be closed. We aren't big shoppers, and to do any major shopping around here means a trip either to the county north or south of us. Today we headed south, and along US1 we noticed numerous shopping strips that are now empty as well as restaurants, even a Wendy's, that are boarded up. I guess it's a sign of the times, which is sad.