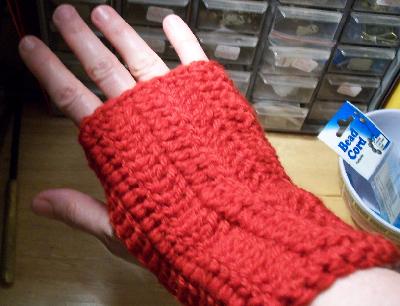 I realized today that it's been awhile since I've given an update on my crafting endeavors, and I am also curious about what others are crafting out in the blogosphere. So, I'll tell you mine if you'll tell me yours.
Yarn crafting: Just last night, I finished up another pair of fingerless gloves in red wool for a belated birthday gift. Though we live in the same city, I haven't been able to see her in awhile since our lives are both so busy, so I'm thinking of actually mailing this out to her this week. Considering how it is already warming up down here in the South, she may only get one more chance (if that) to use these before full-blown summer is here!
I like to crochet in the evenings while watching TV, but I don't like to work on anything too complicated since I've got one eye on the crochet hook and one on the TV. Thus I've been making 12 x 12 inch squares for a group of wonderful yarn crafters who all donate squares which a group assembles and gives to those who need a warm hug. I just sent out my first four squares for the group this week. Hopefully, I did it correctly and they are sized right as well. If so, I plan to make more since they are a nice way to help others and get some mindless/relaxing crochet work in as well.
I am finishing up a my third small blanket of sorts for the Snuggles Project. Now that I have a few finished, I may try to get these mailed out this week or the next. These are also good TV watching projects since I keep them fairly simple. They are basically like the squares, just a little larger.
Jewelry making: I've been experimenting a lot with resin lately. For example, I received a product called Ferido Formula x1, which is a two-part epoxy resin. So far, I've made some cabs that I stuck onto brass components to create a pair of earrings, and I have made some beads as well, which I will put a tutorial up for this weekend. Hopefully, I'll also manage to use them in a fiber necklace project as well, depending on how my time goes this weekend.
I have a few other ideas for resin jewelry projects, so I'll keep you posted on those. One of the things I like about resin is that you really don't need a ton of high-tech type supplies to work with it, and I can often pick up anything I need, such as the resin itself, at my local craft store. However, one drawback is the time you have to wait for the resin to fully cure, so as far as designing and writing up projects with it, this medium takes a little longer than your average bead or wire project.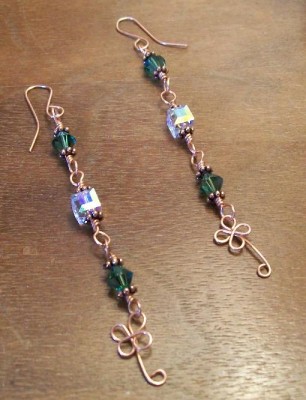 Speaking of beads and wire, another recent jewelry project of mine (just in time for St. Patrick's Day) is my Lucky Four-Leaf Clover Wire and Crystal Earrings. I love how they turned out and plan to wear them for at least the next few days, though I don't think these are so obviously themed looking that I couldn't wear these any time during the year.
And, finally, as you may know already since I've been blogging about it, I have added a few finished pieces of jewelry to my Etsy shop, including some that include some cute little metal clay star charms I made. I've been selling the charms by themselves for awhile, but I thought I'd go ahead and sell some finished pieces that incorporate the charms as well.
Okay, enough about me. Now for you.
What's on your crafting plate lately?