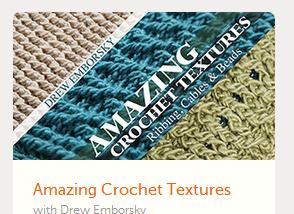 I'm taking a brief break from my Knit Lab Craftsy class while I finish up another baby afghan so decided to watch a new class I signed up for called "Amazing Crochet Textures." It is a free class offered by Craftsy and is taught by Drew Emborsky (aka The Crochet Dude). The class includes five lessons (I'm about half way through them so far) and covers elements for creating textures with yarn stitches like the cables and post stitches. Like most classes from Craftsy, it centers around a project, so you actually make something while you learn various techniques. For this class, the project is a 34 x 42 inch afghan. Written and charted instructions are provided in a downloadable pdf file.
Drew is a wonderful instructor and gives very clear explanations and helpful tips as he goes through each part of the process. I like that this class is for someone that has a little crochet experience but is not necessarily an expert. I think you should be able to do chain stitch, single crochet, and double crochet before taking this class, but that's about all you need to know, and those are pretty simple stitches most beginners learn right away.
So other than it's a great class, hey, this is a free class! Go sign up for it now, seriously! Did I saw it was free? Hopefully, we will see more of Drew on Craftsy as well as more crochet classes. I love that there are lots of knitting classes, but we crochters need more choices over there too.