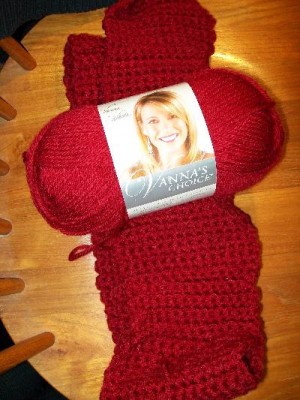 I don't get much time to crochet these says. Mainly, I crochet a little in the evenings when I'm chilling out and watching a TV. (And, yes, I do watch TV, horrors! I read so much for work, that I really need some down time ya know.)
Well, here is my latest project. It's for the next charity challenge of one of my crochet groups which is making red scarves for a group called Heart Sisters. I'm doing a simple combination of regular single crochet and single crochet going in the back loop. This creates a kind of ridge affect. I'm not 100% sure of how I like it so far, but hopefully, once I put an edge around it and block it, the final product will look good enough to donate.
EDIT: Carolyn Thomas who runs the site mentioned above was nice enough to correct me that while her site does offer educational assistants related to women's heart issues, it is not the same group I am making these scarves for. That group is actually called Women Heart, and you can find out more about donating red scarves on here.
I'm using Vanna's Choice in cranberry, so it is a really deep, dark red color. Yummy! I'm still a huge fan of this yarn I have to say. While it is acrylic, it is so much softer than many of the other brands I've tried in the past. Hopefully, I'll have this finished to show you the completed scarf next week.