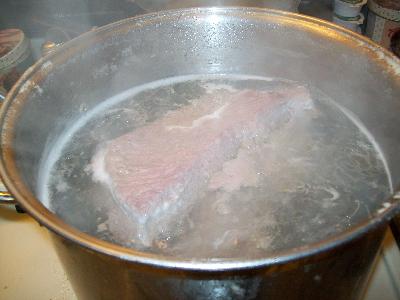 I know it doesn't look all that appetizing at this point, but if you could only experience the yummy smells bubbling from this pot of corn beef, soon to be teamed with cabbage and carrots for our late St. Patrick's Day meal this Sunday, wow! As I wait for what I hope will be an early lunch today, I'm looking around the web for some great craft ideas and inspiration. Come join me.
Farm Girl Roots, City Girl Style
Looking for an easy way to paint coloring-book art on the walls in a kid's room? Linda walks you through how she did it.
Margot Potter The Impatient Crafter
Where do you find inspiration? Madge wants to know! Share her process from inspiration to design in this inspired post!
Mixed Media Artist
See how you can achieve the look of a hand-tinted print with Photoshop!
Stefanie Girard's Sweater Surgery
How to make recycled plastic bunny ears inspired by the techniques in the book Upcycled Accessories
The Artful Crafter
Have you seen Xyron's Creatopia? Prepare to be amazed by the baby booties going through a Creatopia in the video!
About Family Crafts
Celebrate spring with Sherri and these fun craft projects!
Cathie Filian
Check out Cathie's silk screen projects for Better Homes and Gardens. She has something for everyone.

Craftside-A behind-the-scenes peek at a crafty world
This week at Craftside there is a fun Steampunk style socket set bracelet, how to repurpose a canvas tote with applique and make faux patches, a peek into some cool art from the book Digital Illustration, a hot water bottle gets Re-Bound and a how to and tips on vampire drawing.