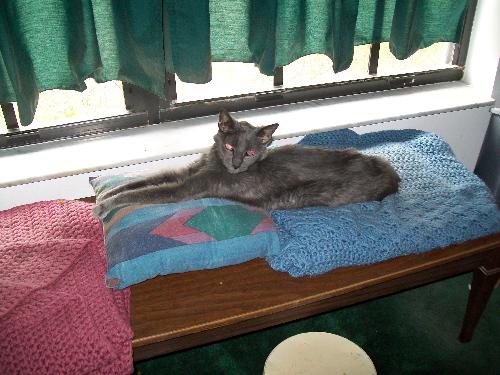 I posted this photo in one of my Facebook albums but thought it would be fun to share here as well. After taking this picture of "THE" most comfortable cat in the whole wide world, I realized that he is lounging on items that I made a long time ago.
The blue crocheted blanket and the pinkish one across from him were afghans that sort of ran amok. The pillow in the center I also made. I purchased the pillow insert from a fabric store, and I used a pillow case, cut it down to fit around this smaller insert, and stitched it closed. Additionally, the curtains behind him (which I need to replace with new ones) were a sheet that I cut to fit the window and added a casing at the top to fit over a push rod.
As you can see, they all make for a very comfortable spot in front of a window. It feels good to be appreciated.