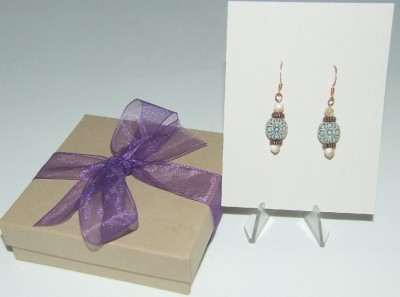 My first jewelry kits are complete and listed in my Etsy shop.  Both are earring kits using ceramic Raku beads, natural mother of pearl beads, copper beads, and copper findings. One jewelry kit is what I call a "full" kit because it has all the materials (except tools) needed to make the jewelry piece as well as a detailed full-color instructional tutorial. This is a beginning level kit designed for someone who has made little to no jewelry at all.
The second jewelry kit makes the same earring design but is geared towards someone with more experience who may want to make the earrings but doesn't need the tutorial included the the full kit, so the kit includes all the materials but no tutorial.
I have two more earring kits in the works that are now in the testing phases where I actually have people make the kits and follow the instructions so I can make extra sure they are super clear before I start selling them. And then, the fourth earring kit I have plan is still in the design stage.
What do you think about this first kit? I'd love to hear some feedback, and if you know of anyone who has wanted to start making jewelry but wasn't sure how to get started, please pass along the links to the kits above. These earrings are very easy to make, so it would be a great way for a newbie to get started with this fun hobby.