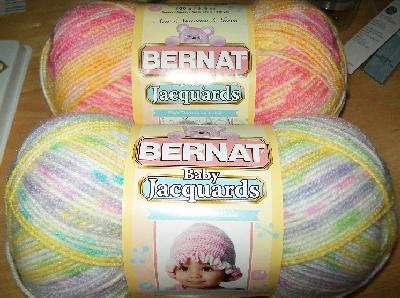 I'm working on some baby hats and booties for a local charity, and I need just a few more skeins to finish up some booties. Though I cringe at the thought of going to Walmart, it really has had the best prices on yarn in general and definitely Bernat baby yarn, which is my first choice for making crochet baby items. So today, I figured I'd stop by and just get a few skeins and be on my way home after school.
Low and behold, what do I find? Bernat Baby Softee in pink, yellow, and blue on clearance, $2 a skein. These are normally $3.28 at Walmart. For some reason the same type in purple and mint were $2.50. The Bernat Baby Jacquards were marked down to $3.
I quickly checked my wallet to see how much cash I had, and filled my arms up! However, I had the nagging feeling. Does this yarn clearance mean the end of Bernat yarn at Walmart? I posted the sale on a Yahoo crochet list, and ga-zing, I received a number of emails back that yes, indeed, other yarn crafters had heard that Walmart was planning on axing its yarn products!
So the good news is, more than likely you can score some great yarn deals at your local Walmart. The bad news is, this may be the beginning of the end of yarn at Walmart.