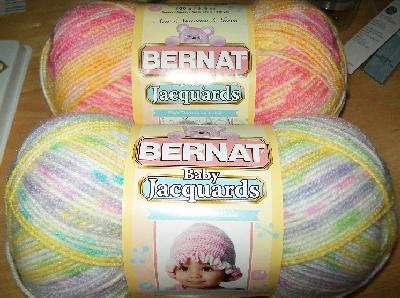 I went to a very disappointing Michael's sale today – as in not much that you'd want to buy is even on sale – but one good thing came out of it. I have been almost exclusively using Bernat Softee baby yarn for the baby items I donate, and now and then I wonder if I should branch out more, especially when there are baby yarn brands that cost less.
So today, as I was strolling through the yarn isles, I felt up a lot of the baby  yarn from various manufacturers. Yes, I coped a yarn feel. I couldn't help myself.
While some of them weren't too bad, such as Lion Brand's Baby Soft which I thought was pretty decent, as I suspected, Bernat Softee is way, way softer than any others I felt. I used to be able to get this yarn at a great price at Wal-mart ($3.28), but it is no longer available there…bummer! Michael's carries it, but it's $4.49, yes, even the solid colors, yikes! So now I must be forever on the alert for Bernat sales since the difference is so noticeable.