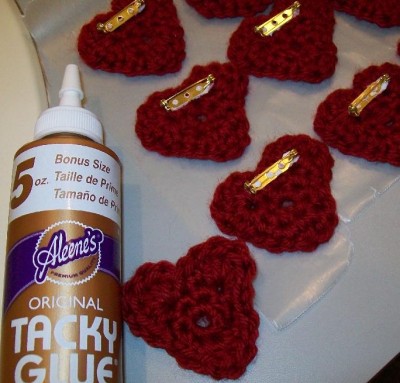 Some of the items we hope to make and sell for our craft club's fun raiser are heart pins and clips. I found a great pattern for crocheted hearts at Planet M Files, received the okay from the designer to use her pattern and sell the finished hearts, and have been making them like crazy lately. My original ideas was that members could bring glue guns to one of our meetings and glue on the pin backs and clips.
Luckily, it occurred to me that I should double check how glue gun glue worked with yarn because, well, it doesn't! The glue just does not stick! Crap-o-la! As I said, I was lucky only because I thought to test this out before I had members show up with their guns ready.
Glue test number two included tacky glue, an old favorite of mine. It does work, but you have to wait awhile for the glue to totally dry. I was hoping with the glue guns we would have instant stickiness.
Glue test number three was with super glue, which I invariably always get all over myself for some reason. Super glue was also successful, but again, it's not an instant stick. Either way, with tacky or super glue, we will have to allow the glue to totally set before we can start selling our pins.
I'm now gluing some pins on my own so we at least have some to get started when our fund raiser kicks off in a few days. Then by the time we sell this fist batch, the next should be dry and ready to go.