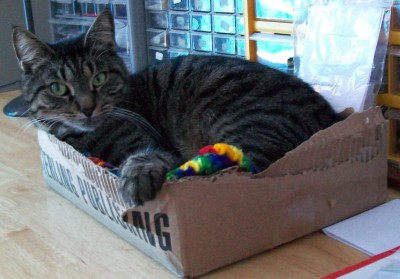 Herbie and the gang are all just chilling this weekend and watching me craft.
About Family Crafts
If you are looking for a great family activity, learn how to make garden stepping stones together.
Aileen's Musings
Aileen was back in the kitchen again baking up Peanut Butter & Jelly Cupcakes! Stop by and snag her free printable recipe card!
Carmi's Art/Life World
Trying to keep Provence in her life, Carmi makes up a new vision board.
Craftside- A behind-the-scenes peek at our crafty world
This week at Craftside there are fun tutorials on how to make a spinning beach ball invitation greeting card, a gold leaf crackle finish on polymer clay and measuring tape and button bracelets, 6 Steampunk guns, and some "hand crafting".
Eileen – The Artful Crafter
See how Eileen used a 3D Valentine's Day card template to make a 3D card suitable for many special occasions.
Mixed Media Artist
Cyndi starts a series of experiments with soy silk roving.
Stefanie Girard's Sweater Surgery
See how to make a two headed girl in a cage photo op.