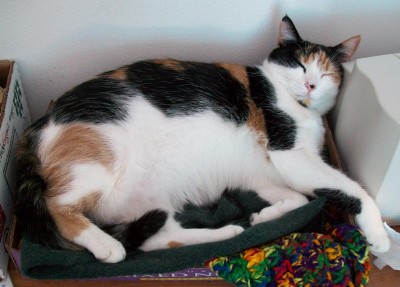 As you can see, it is a lazy Sunday. Here is Coco, one of my expert office assistants, sleeping on the job! And, yes, as you can imagine I had to rub that tummy! Enjoy this week's crafting links.
Craft Buds
Paper crafters can enter to win an Epic Letterpress Combo Kit (through 11/8) and learn how to make a fall wreath using this versatile machine.
Craftside-A behind-the-scenes peek at a crafty world
This week at Craftside there is a tutorial on how to sunprint with paint on fabric, how to identify torch flames, a recipe for vegan white and milk chocolate, and how to design the size and shape of your eyebrows.
Eileen – The Artful Crafter
Here is how to use 3D clay accents to make your decoupage projects pop.
Mixed Media Artist
Cyndi has used some low-tech tools to make some fun printed pieces of silk for a future project.
Stefanie Girard's Sweater Surgery
See how to make a recycled zipper ring.
About Family Crafts
This current craft challenge is all about vacations. Do you have a vacation related craft you can submit?
Aileen's Musings
Aileen had a phenomenon happen while creating mini star ornaments from some microwave clay.
Cindy Gimbrone Beads
Cindy tries her hand at right angle weave and reviews Stitch Workshop: Right-Angle Weave published by Kalmach Books.