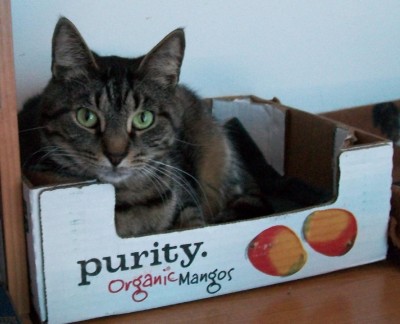 Here is our Herbie hanging out in his favorite Mango box. While the girls are totally at home in their new world after leaving the shelter many months ago, Herbie is still coming out of his shell. He is such a sweet boy, and I so look forward to being able to pick him up and hold him some day. Right now, I have to be satisfied when he comes to me and squeaks and allows me to pet him. He will often also come to my desk and walk around in front of the monitor when he needs some smooching. I am working on the picking up thing with him, but he's less than thrilled about it. He doesn't freak or fight, but he wiggles, and I know he doesn't like it. But someday he will, hopefully.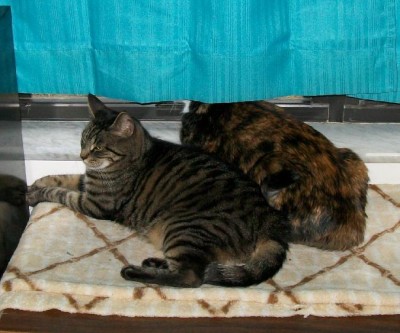 All the girls adore him, but Chanel is majorly in love with this boy. She is always finding opportunities to sit right next to him. Here they are looking out one of their favorite windows. I purposely have the curtains hung so there's a nice gap for them to look through.
Okay, now for this weeks crafting links.
Aileen's Musings
Aileen shows you how she created magic by turning an ordinary paper mache torso into a lamp that looks like patinaed copper!

Carmi's Art/Life World
Carmi has a cross over link so you can enter to win a kumihimo starter kit!

Craftside-A behind-the-scenes peek at our crafty world
This week at Craftside there are tutorials on how to spin extreme tail style yarn, make ATC's from magazine pages and punches, an ironic heart frame from unusual images, and a recipe for laminated parsley pasta.
Eileen – The Artful Crafter
Eileen's happy to be back in her niche. Have you found yours yet?
Mixed Media Artist
Cyndi plays around with inkjet printer silk!
Stefanie Girard's Sweater Surgery
How to make an origami bunny Easter garland