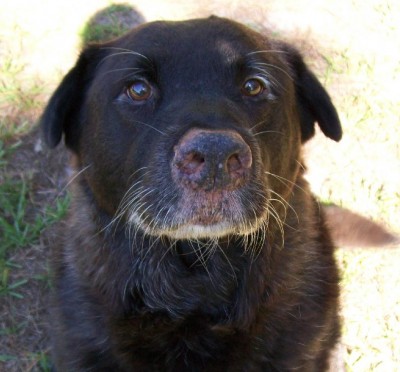 This week's pet story is about one of our dogs, Rocky (aka Boo Boo). Like most dogs, he is man's best friend, especially when that man is my husband. On most evenings, our routine includes me stepping away from the keyboard or setting down whatever book I'm reading around 7pm and picking up some no-brainer crochet project to work while I watch House Hunters or reruns of The Big Bang Theory or both, and my husband around this time will take his ipad and hang out on the porch with the boys (Rocky and his brother Jasper). After about an hour of this, we will start figuring out what, if anything, we can watch together on TV.
My husband was planning on leaving early one day this week and heading over to visit his mom and staying the night there, so instead of our usual meet up at 8pm, I suggested we start a movie around 7:30 so we could finish it and not stay up super late since he had to hit the road early the next day. As it happens, this meant he would skip the usual porch time, but he agreed, and after picking a movie to watch, we sat down, turned down the lights, and turned up the surround sound.
Well, normally when we start a movie, the boys always insist on being taken outside as soon as the thing starts up. I guess they are concerned about getting enough time during intermission to do their business. This particular evening, though, Michael had just taken them out about 15 minutes before we started the movie, so we thought we were safe. But, oh, no, both dogs started bugging us, and so he relented and took them out again.
Finally, we settle down a second time to watch the movie, but Rocky can't seem to get comfortable. He is walking all around the room. He keeps coming up to us as if he wants out, but he's been out two times in the last 20 minutes! Eventually, he just stands there in the middle of the room and looks at us. No matter what I say, he will not sit down and chill.
It takes awhile before either of us realize that he is all flustered because he did not get any porch time with his man. Zippo! We were totally off schedule, and he was not going to be able to handle it! Didn't we realize what the heck was going on? This craziness just could not be tolerated!
Sure enough, as soon as DH went out on the porch and sat in his chair out there, Rocky was right by his side and as calm as could be. Lesson learned! Do not mess with the schedule people! DH is due back any minute, so after his evening porch time with Rocky, hopefully we can get more than 10 minutes of the movie watched tonight.
Okay, that is the whole Rocky saga, and now for some very cool crafting links:
Aileen's Musings
Aileen has a cool steampunk inspired valentine artist trading block tutorial for you.
Craft Buds
Learn how to frost cupcakes like a pro and turn your favorite chewy candy into some fab cupcake toppers for the Superbowl!

Craftside-A behind-the-scenes peek at a crafty world
This week at Craftside there is a recipe for Vegan Captain Crunch french toast, eye-candy in the form of a unique quilt canopy, drawings turned into coloring books, a fun book video and a crazy knitted scarf.
Eileen – The Artful Crafter
You can transform plain glassware into unique home decor. Check out Eileen's first attempt with transparent glass paints.
Mixed Media Artist
How can you resist a resist? Especially when it's as much fun as gel-based school glue!