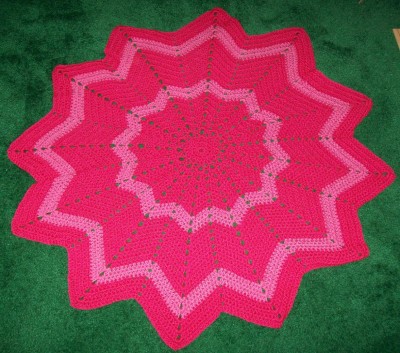 My yarn came and I was able to finish this baby afghan, yeah! Not that long ago, I was kind of freaking because I had run short on the Berrylicious color of yarn (the bright pink), and of course, Michael's has like 2 colors of Vanna's Baby Yarn (wouldn't you know!) I lamented for awhile and then found an on-line sale at JoAnn's and also got a free shipping code from Facebook, and ordered just a few skeins to help me through this crisis.
And I love how this turned out!
It is now stashed away as part of the items I am making for a donation drive I'm running through the Yahoo Crochet List. The drive runs through February, and while my hope is that list members will donate tons of wonderful baby hats, booties, and small afghans, I also feel pressure to produce like crazy since I'm asking other people to participate.
I have already started on another in this same design, but this time I am sure that I have plenty of yarn!