I was visiting family in Rockledge, Florida this past weekend, and since I was in town, I thought it might be a good excuse to check out a yarn store I had been curious about that is located in Cocoa Village called Knit and Stitch. Besides the fact that I was just curious, I had a really good excuse for going because I was running out of the Big Trend yarn I was using for shawl number 2. Originally, I bought just two skeins with the idea I was going to make a hat and maybe a scarf, so needless to say, two skeins is not enough for a big shawl!
Granted, I could probably have gotten more of the same yarn from the shop here in town, but I thought I'd at least see if Knit and Stitch had it since I was in the area. Not only did they have it but in the same exact dye lot too, woot!
As a native Floridian, I have not exactly been to tons of yarn shops, so I'm not sure really what to expect, but boy, howdy, this place was awesome! It had yarn, yarn, and more yarn. I mean floor to ceiling, wall to wall, baskets on and under tables, there was yarn all over the place! Luckily, I had a few things keeping me from spending my entire pay check. When we walked in, there was a knitting circle right in the center of the store. Many of the knitters greeted us when we came in, which was very friendly, but it was kind of hard to move around in the store because it was packed with people. Then there was my mom who had come with me. She has knitted and crocheted in the past, but it's not her thing any more, so she had to keep remarking to me about how expensive the yarn was. Yes, a "Debbie Downer" will help keep you from going too crazy with the yarn spending. Then, finally, there was still my own sticker shock demon that I continue to fight.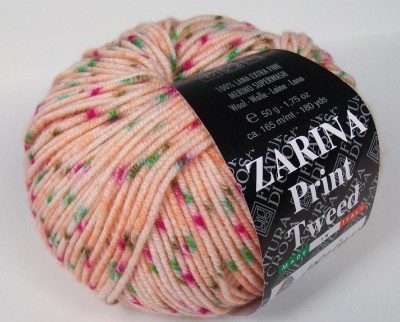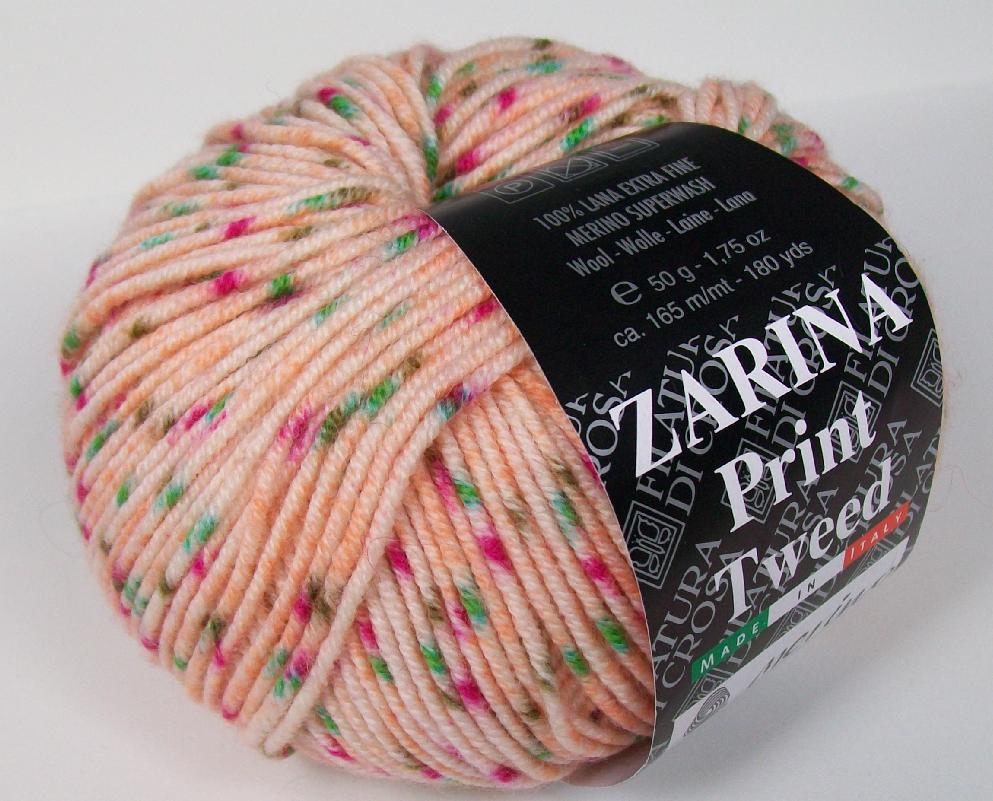 I ended up getting two more skeins of the Big Trend to finish my shawl (or at least I hope it's enough to finish it). Then I just bought a few skeins to taste test. I keep hearing about Merino, which I really don't know what that is exactly other than it's wool. So I bought a 50 gram/180 yard cake of Zarina Print Tweed extra fine superwash wool Merino. I can't see if there is any specific name of the color of yarn on the label. This is from Italy, so some of the label is in Italian. I know this is one little bit of yarn, but I'm hoping it's enough to make a lace-type scarf. It was on sale, normally $12.50 marked down to $9.95. (Yes, for this tiny little cake of yarn, $10, but it is so cute and soft).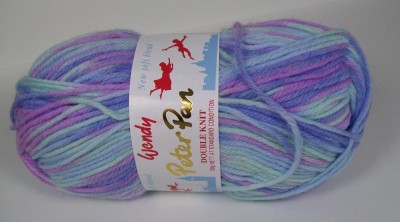 My second experimental splurge is a little 50 gram/170 meter skein of Peter Pan Double Knit 55% nylon and 45% acrylic. I couldn't find anything on the label that indicated the name of the colorway. This skein was $6.75, and more than likely I will make some baby hats with it.
My yarn strategy was that I would get a few small skeins and see how I liked them. I am clearly still out of my element when it comes to fancy yarn shops, and unless I have a specific project in mind, I'm not ready to pluck down a lot of many for yarn that I don't have a very specific purpose for. I ended up spending about $40 total, which isn't too bad, and I received a discount card from Knit and Stitch. For every $10 you spend, they stamp the card. Then once you reach $100 total (not difficult to do in a fabulous place like that), you get 10% off your total purchase, including sale items.
Though the shop felt very knit-centric (everyone there was knitting and they have a knitting cruise scheduled for November), I found the store and everyone in very inviting. I hope to go again on my next visit to the area, this time possibly without mom and hopefully a few less knitting circle people so I can see more of the yarn and not have an extra voice telling me that the yarn is expensive.