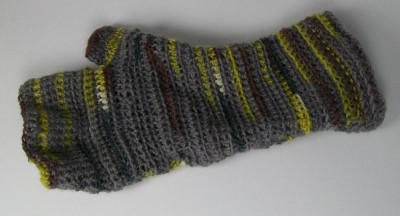 Per my husband's request, here is fingerless glove for guys number 1. And it turned out pretty well. Hopefully, number 2 glove will work out fine as well. In fact, if it does, I'm thinking of making a bunch of these for all the guys on my holiday gift list. We shall see. These definitely take more work than loom hats. However, once I make a few I should be able to remember the pattern better, and you can get a lot of gloves off of one skein of sock yarn.
I searched around for a guy specific pattern with no luck, so I used the original one for me (Lion Brand All Season Writers) and made the larger size as well as tried to keep the stitches on the loose side. I had hubby try them on at various stages, and at the end, he asked for them to be longer (you work from the wrist up). This was easy. I just added about another 1 1/4 inches of stitches so they covered his entire palm better.
As it turns out, I have a few skeins of sock yarn in my stash, so I plan to use those up and see how it goes from there.