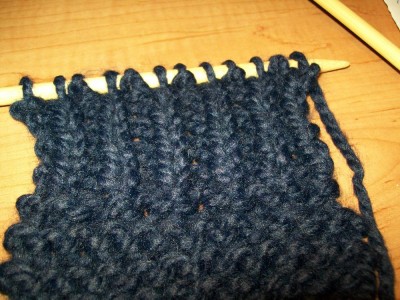 Put down your forks. I'm making ribs but not the kind you eat. For the first time, I finally have managed to knit what is called "ribbing," where you alternate between knit and purl stitch. Above is some photographic evidence!
I can't tell you how hard this has been for me to get my brain to tell my hands to do this! In fact, years ago when I tried to take some knitting classes, the instructor actually started with this, alternating between these two stitches, and it really turned me off to knitting because it was so freaking hard and I could not visually tell the difference between the two stitches.
Since discovering Knitfreedom.com, I have finally been making some knitting progress. They are still baby steps, but Liat's instructions and videos are so amazing. I'm working through her Intermediate Scarves & Stitches ebook now, and that is what finally made the whole knit/purl/knit/purl thing click for me. Being able to finally do this is a huge step because basically knitting is made up of pretty much these two stitches. So unless you can go back and forth between them, you are super limited in what you can make.
Now I'm starting the scarf project she has in the ebook, which I know will probably take me forever because I'm incredibly slow, but I just have to keep telling myself that it is all part of the process. Yeah for me!