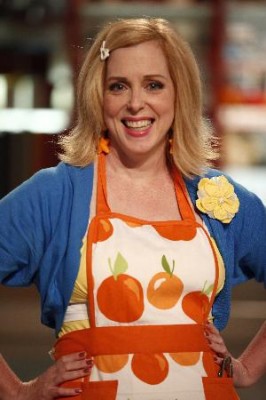 Tomorrow will be the best Craft Wars on TLC ever for a number of reasons. First, it is starring the Impatient Crafter herself, Margot Potter!
And reason number two is that Craft Wars is now on at a different time, 8pm eastern time/7pm central time. That means prime time for the east coast, yeah!
I can't wait to watch Margot in action as she and two other competitors take on Christmas crafting. Here is some of the 411 from the press release I received:
This week Christmas comes early on TLC's CRAFT WARS! Contestants Cheryl, Ivan and Margot compete in a series of challenges filled with Christmas cheer; they must create a Christmas tree out of post office supplies. I've included the episode for you to preview as well as a sneak peek and photos from tomorrow's episode. PLEASE NOTE: TLC has moved the time of CRAFT WARS- it's now airing Tuesday nights at 8/7c.
Also, don't miss Tori Spelling giving TLC's CRAFT WARS fans the behind-the-scenes scoop when her tweets appear live on-air during Tuesday's episode. Tune in to see what she really thought of the crafty creations Tuesday, July 31 at 8/7c on TLC.
And even better, here is a video sneak peek: