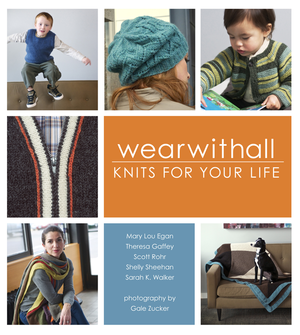 I recently received a review copy of a new knitting book called Wearwithall: Knits for Your Life. It is a collaborative project that was sponsored by The Yarnery and developed by five established fiber designers: Mary Lou Egan, Theresa Gaffey, Scott Rohr, Shelly Sheehan, and Sarah K. Walker. The book is currently for sale on-line through The Yarnery's web shop and retails for $21.95 US and includes 13 knitting projects. If you are anything like me, you are already breaking down the per pattern cost, which is rounded up to $1.69 each.
The 13 projects are a mix of wearables and accessories: socks, mittens, hats, cables scarf and cowl, stole, rugby scarf, blanket, baby sweater and tunic, toddler's cardigan, child's vest, woman's cardigan, man's sweater, and table runner. All of the designs are very classic, and there are variation ideas provided as well. For example, one of my favorite projects is simply called "hats." You can see a picture of it as well as all the other projects at wearwithall.com. This project provides instructions for knitting either a woman's slouchy version of the hat or a men's fitted version. One of the very cool things, by the way, about the book's web site is that it lists all of the yarns used for each project and each variation and has links so that you could actually buy the exact yarn for a project in the book.
In fact, the web site is really packed full of information and also has a blog set up with on-going updates about ways to alter the projects and other related information. There was even a call for entries for version number two of this book. I like that you can go over there and learn a lot abut the book and get a good look at all of the projects before deciding to buy or not.
One of the elements of this book that really stood out to me as I was reading through it is the photography. Lately, I've noticed some publications try to be a little to artsy when it comes to project photographs. This makes me wonder if the publisher is trying to hide something or is just clueless about the fact that someone reading the book would want a clear picture of a project before he/she starts to make it. Wearwithall's photographs are tasteful and inviting but still give you a really good idea of what the finished item will look like.
One point I would have liked to see, though this can sometimes be a little subjective, is a difficulty level marked on each pattern. As a fairly new knitter, most looked a little much for me to take on yet. However, as I spent more time reading the patterns, I did find a few that are at a beginning level. The stole pattern, though a large project, is beautiful and as far as stitches go very basic. The rugby scarf was also another good beginning project.
For anyone who enjoys making classic knit pieces, this book would be a great addition to your fiber book library. It is slim, just 56 pages, but it is designed for anyone who wants to knit pieces that will be worn and appreciated for many years.
Okay, now for some knitting and giveaway fun! I want to know what is your favorite item to knit. Is it a scarf, hat, sweater, what? What type of item do you seem to gravitate to over and over again when you pick up your pointy sticks?
This giveaway is available to anyone living in the continental US. (Sorry for this, but otherwise, it will be nearly impossible for me to mail out the book…long story.) Post your comment only once! in this blog entry and you will get a chance to win this wonderful book, Wearwithall. The deadline for entry is August 31st midnight ET. Then during the first few days in September 2012, I will randomly pick one winner. Make sure to include your email address when commenting. I will email the winner who will have 5 days after the drawing to reply back with a mailing address. Anyone who does not reply after 5 days will no longer be eligible to win, and I will draw a new winner.