School is starting back for fall, so my summer productivity when it comes to my fiber fun will probably start to slow down considerably. I have a few projects I've really wanted to start, but before I do, I have the following to finish. I just can't stand not finishing something, and if I have too much started, I start to lose focus and actually get a little anxious.
First, I have another knitted wash cloth. This one I'm doing all in purl stitch, and it is a little holy here and there, but I'm keeping at it. Since taking this photo, I've made more progress. I'm a little past the halfway point. I definitely like knit better than purl stitch, and my purl gauge is really super loose.


I'm also working on a shawl. I started this back in early July and almost frogged it a few time because I wasn't falling in love with it, but after making more progress on it, I'm starting to like how it is coming out. I'm using
The Windsor Lace Wrap
pattern, Chroma yarn fingering weight in a colorway called Fossil, and a G hook.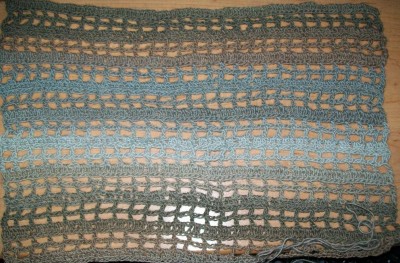 Next is a pair of fingerless gloves I'm making as a gift for a friend who loves red. I really hope to get these finished this week because I have tons more of these to make for holiday gifts. I may even give these to her early. I'm using an F size hook and a KnitPicks sock yarn called Cochineal Felici.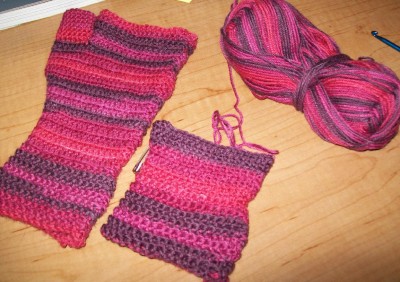 Finally, this afghan is also going to be a gift. It is my evening crochet project because there is no pattern to read, just all double crochet. I'm holding two strands together of Bernat Baby Soft purple yarn and an N size hook. I plan to alternate with sections of yellow yarn as well. I'm trying to use up some of my baby yarn stash. For some reason, I have a ton of purple.