I have been reading on the Ravelry forums for awhile now about the bags from Namaste.com. Most people rave about them, and I happen to be a kind of bag-o-holic. Thus, I have been stalking their products for awhile. My main reason for holding back (until recently) was because I felt many of the project type bags were overpriced considering they are not made of leather. For example, The Monroe bag, which is a super huge bag that looks like you could carry your life in, retails for $89. Even shopping around at discounted places, the cheapest I've seen it for sale is $60. I just can't bring myself to spend that kind of money on a vinyl bag.
However…I recently caught a Facebook post from Namaste about a deal the company has going on for the month of October. With any purchase of at least $25, you can get a free set of its Oh Snap pouches. You have to put in the code OHSNAP when you check out. So here was a great deal and a way for me to test out a few of its small, less expensive but still functional products. I popped over to the web site, filled up my shopping cart with an assortment of small items that totaled $26, but before I checked out, I noticed that the cost for shipping was going to be almost $15. Ack! That is crazy!
Needless to say, I did not finish checking out. In addition, I went over and posted on the Namaste Facebook page about it. A few minutes later, I received a reply from someone there that I could email the company and ask if it is possible to get an alternative shipping option that would be less expensive. I did, and it was, less than $5!
So now, here's what I purchased.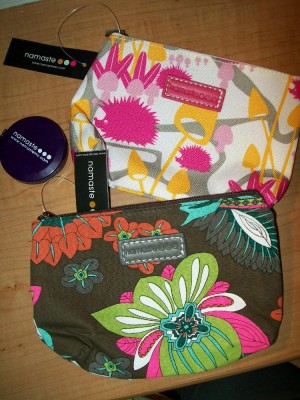 Two small pouches ($5.75 each) and a measuring tape ($4). These are a nice size, though they are not lined. The tape will be handy for my crafting. I may keep these or stash away for possible holiday gifts.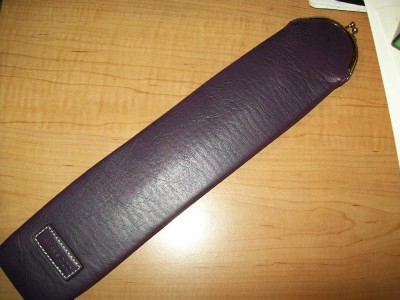 This is called a "Cozy," and it is in the eggplant color. I'm not exactly sure what happened here. I thought I had ordered the smaller size used for crochet hooks, but somehow I ended up with the size used for knitting needles. Both are the same price. I'm honestly not sure if I made the mistake or if they did. This was $10.50, and one reason I purchased it, other than the fact I was thinking I could transport crochet hooks in it, was because I wanted to see what the vinyl was like that they use for the larger bags. It is okay. The item is well-made for what it is, but I'm not overly impressed with the quality of the vinyl. It is pretty much like most vinyl, not better or worse.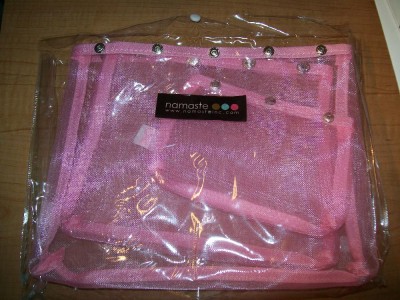 Then these are the "free" set of snap bags, which even comes in a plastic bag that also has a snap on it. I'm using the larger one already to store items in my book bag. I pretty much use my book bag as a purse when I go to school, but it can be a pain to find small items like a wallet inside of it. Now I have all those smaller items in one of these, and then put that in my book bag.
I still think the larger bags are overpriced, but I think the smaller accessories they carry seem to be priced well and made well, at least that's my call from the purchase I made.