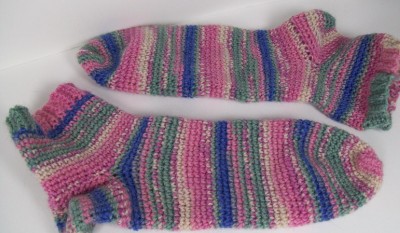 Sock number 2 is now done! I have to say that making these socks was a challenging project for me, and I am in no way a sock making covert; however, it feels good to complete a project that (for me at least) was pretty difficult to make. The actual stitches (mainly single crochet) were not hard to do, but figuring out the pattern was not easy. Plus, this is not an immediate gratification project to say the least. It took me 19 days from start to finish, and while I did not only work on these or even work on them every day, I did give them a fair amount of attention.
These socks fit me, which is nice. I'm not sure if I'm in love with making socks now and certainly am not sure about this particular pattern (which comes from Learn to Crochet Socks for the Family
). The pattern has you do a few things when it comes to finishing that I think are kind of odd. The finished socks are also full of texture, so when you walk in them you can feel it. For me, they are not necessarily uncomfortable but might be if I was wearing them with shoes. If I were to make these again, I would probably make sure I used super soft yarn rather than the scratchy JoAnn's Sensations Sole and More that I used for these.
Since crochet items tend to work up much faster than knitted items (even for more experienced knitters than myself), I'm pretty surprised that sock knitting is so popular. It has to be very time consuming, but of course, if I were the type to wear socks more, maybe it would be worth it. Without a doubt, though, the sock making bug did not bite me!