To expand on the amigurumi animals my college craft club plans to sell at a local craft show – owls are cute but we need more than owls – I thought I would also make some frogs as well. Plus, someone donated a huge skein of green yarn to us. I have made a number of the Lion Brand frog patterns, which are basically a circle with legs, arms, and eyes. They are pretty easy to make, except the eyes. Those are fiddly, and so I thought I would use googlie eyes instead to streamline the process.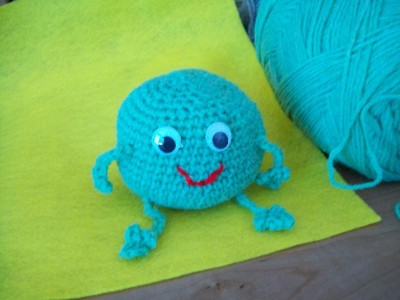 Yup, it streamlined it because I just had to glue on the eyes, but to me, this guy looks weird, not really like a frog. So before I opted for the entire eye the pattern calls for, I thought about it for awhile. Eventually, I decided to try just making a few small white yarn circles, stitching these to the face, and then gluing the googlie eyes to those.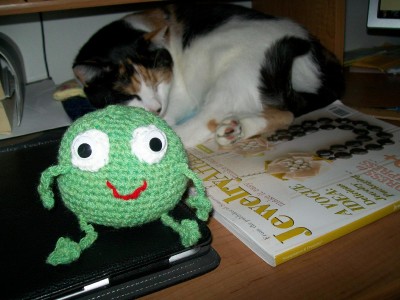 Yes! Success! He looks like a frog now, and those extra white circles where not that big of a deal to make. And, of course, we also have a lot of white yarn that someone donated to the club, so it is another way to use up the yarn supply.