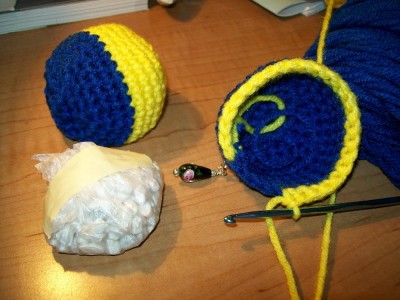 About a year ago, I purchased some yarn for the craft club in school colors thinking we could whip up some hats to sell. We did make hats, but it was about 80 degrees out, so they did not really sell and ended up being sent to a charity, which is fine. However, I've been trying to think of what we could make using this yarn that might actually sell at the craft show – maybe hacky sacks?
So far, I've made three, but I have had to rework a number of patterns to get the right size. Most of the patterns I found do not use worsted weight yarn, or if they do, the hacky sacks (IMHO) are too large. So I'm continuing to experiment and hope to get a pattern perfected as I make a few more of these.
I'm stuffing them with aquarium rocks that I first stick inside plastic wrap and then wrap closed with tape. They have a pretty good feel to them, so even if my stripes are off a tad, I think they are turning out pretty well.