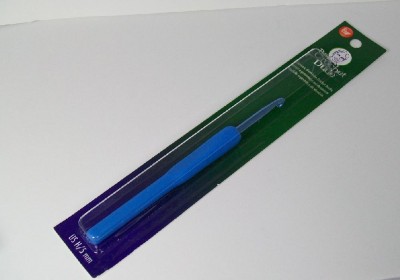 I have had a chance now to try out one of the new Crochet Dude's products
I received recently
, starting with this H hook. It retails for $5.99. The top part of the hook is aluminum, and the bottom part of the hook is a soft ergonomic handle. Even though I enjoy working with bamboo and wood hooks, I often reach for aluminum hooks because I crochet much faster with them. However, the coolness of the hook can bother my hands sometimes.
I was a little uncertain about using a ergonomic hook, though, because it just seemed weird to me that the hook handle was so much larger than the rest of the hook. I thought it might be awkward to work with. Of course, I was totally wrong. This hook is very comfortable to work with, and I don't get the cold sensation in my hand while holding it.
I'm using this hook and some yummy Frog Tree sock yarn (80% washable Merino wool and 20% bamboo) to make myself a shawlette. The hook and yarn together have been a joy to work with. Each stitch has been one of those Zen moments.