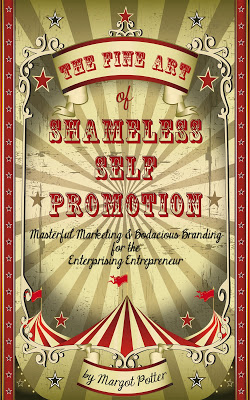 We have another awesome giveaway! For December 2012, you get a chance to win The Fine Art of Shameless Self-Promotion, an e-book recently written and published by Margot Potter, TV/Web personality, author of seven jewelry books, and Swarovski ambassador. You can read all about her new marketing e-book at this page on her website, but the nut-shell version is that she has researched and reflected on her own experience in self-promotion when it comes to her crafting career and recorded all of it in her new book.
The hardest part of any business – no matter if it is craft related or not – is marketing. You can't sell your goods or skills if no one knows you exist. However, trying to figure out how exactly to promote yourself can be confusing and frustrating. On that note, here is the question you need to answer in the comments in order to get a chance to win:
What do you find to be the most frustrating when you attempt to market your yourself and/or your business?
Post your comment only once in this blog entry and you will get a chance to win. The deadline for entry is December 31th midnight ET. Then during the first few days of the next month, I will randomly pick one winner. Make sure to include your email address when commenting. I will email the winner who will have 5 days after the drawing to reply back with a mailing address. Anyone who does not reply after 5 days will no longer be eligible to win, and I will draw a new winner.