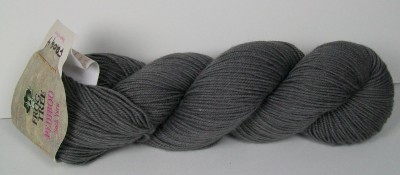 Back in October, I splurged at a not-so-local yarn shop and purchased this wonderful skein of Frog Tree sock yarn (80% washable Merino wool and 20% bamboo). One thing I am trying to be very careful about when I purchase fancy yarn is to make sure I actually use it. I know from past experience with other crafts (such as beading) that it can be difficult sometimes to make yourself use the "good stuff." You  buy it but then never use it because you think you are saving it for that perfect project, which never seems to materialize.
When I purchased this yarn, I had plans to use it to make a shawlette, and here it is just the end of November and I have it finished – yeah me. (I will try to get a better photo of it.) Of course, in Florida, there is not a huge need for me to have a lot of warm clothing, so I used a fairly large hook (US size H) and a pattern from the book Simply Crochet (crochet shawl with chain stitch loops). I also made it shorter than the pattern called for (37 inches x 17 inches), so it is not a very heavy piece to wear.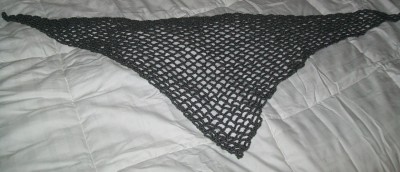 Shawlettes are basically small shawls that essentially work more like a scarf in a way. Over the past six months or so I have been treated for skin cancer in various areas, including right under my collar bone. Though I am not one to wear low-cut shirts, this has still meant that I have to had to keep my collar bone area covered. I have been wearing silk scarves to help with this, but now that there is a little chill in the air, I am hoping this shawlette might replace the other scarves for awhile as my skin continues to heal. I may even make another one using some more of the "good stuff" in my special yarn stash.